Louth's Pocklington's Bakery lime green shopfront gets repainted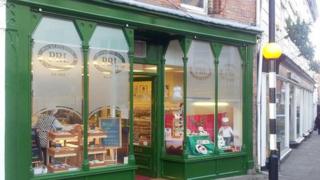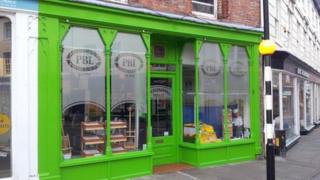 A lime green grade II-listed bakery has been repainted after the shop's owner was told it was the wrong colour.
Pocklington's Bakery in Louth, Lincolnshire, should have been painted a Victorian green, dark blue or maroon shade, the local authority said.
Bakery owner Chris Pocklington said his customers liked the colour and would be disappointed it had to change.
East Lindsey District Council said it was too vibrant for the town's conservation area.
'Short-sighted'
Earlier this month double yellow lines on a Louth street had to be repainted because they were deemed too wide and too bright.
Councillor Craig Leyland said: "Within the conservation area there are various restrictions on what you can do with buildings and if you're a listed building it adds further to that.
"The colour was way too vibrant for that location and a more subtle in keeping colour was needed."
When the row over the bakery's shopfront colour broke out in September the council said it had received "a handful of complaints".
Mr Pocklington said he had received more than 600 comments about the shop's colour of which only three were negative.
He said he would change it to a darker green as he did not want to fight the council.
"It's 2013, not 1920. If they keep this up the town will be painted in 19th Century colours but all the shops will be empty," said Mr Pocklington.
"Our shop colour is one small part of their ongoing attempts to kill off all trade in Louth. Shop colours, market regulations, selling off the cattle market and parking are all contributing to this."
The bakery was founded in 1924 by Mr Pocklington's grandfather.