Skegness beach racetrack 'attracts thousands'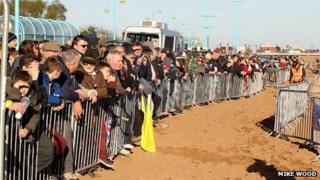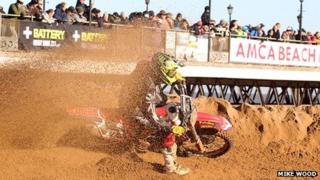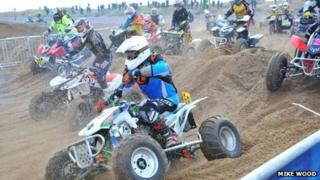 A two-day motorcycle race on Skegness beach has attracted thousands of spectators, the organisers have said.
The Amateur Motor Cycle Association (AMCA) said crowd numbers were "on a par" with 2012 when 20,000 people came to the Lincolnshire resort for the free event.
East Lindsey District Council gave the organisers £5,000 to ensure it took place after a funding shortfall.
The authority said it would give the town a lift at a quieter time of year.
The beach was transformed into a track with jumps, deep corners and other features to challenge riders.
Suzanne Potts, general manager of the AMCA, said: "It's been a brilliant day.
"It's difficult to estimate on numbers but it was on a par with, if not improved on, last year."
'Insufficient funds'
Councillor Adam Grist, portfolio holder for culture, leisure and tourism, said: "[The event] provides an increased footfall in the town which also has benefits to local businesses, amenities and attractions with people staying, eating and shopping locally.
"We really need to get the message out there that our district is not only a fantastic summer destination, it is also a great place to visit all year round."
The AMCA first brought the event to Skegness in 2010.
Ms Potts said she feared the event would not continue due to its large financial outlay.
She said: "The problem for the AMCA was that in spite of some 20,000 spectators visiting the event over two days, the monies generated were insufficient to cover the costs of putting it on.
"Every year since its inception, the AMCA has incurred a loss, the only source of income is from the riders, as spectators do not pay."
About 230 motorcyclists were expected to take part on Saturday and Sunday.