Visitors to Donna Nook seal colony urged to keep off beach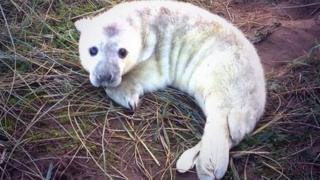 Visitors to one of the largest grey seal reserves in the UK are being urged to stay away from the beach in order to protect the pups.
During November and December, Donna Nook near North Somercotes in Lincolnshire is home to a colony of about 3,000 seals.
Lincolnshire Wildlife Trust said people walking among the animals can cause the mothers to panic and abandon the pups.
The trust said visitors should stay within the official viewing area.
Warden Rob Lidstone-Scott said the measures were also in place to protect the public.
"Seals can be dangerous animals. They can move surprisingly quickly and have big teeth.
"They can inflict a nasty bite," he said.
He added that mothers with pups can be very protective off their offspring.
The trust has is also advising people to visit during the week, where possible, owing to the high numbers of people at the site during weekends.
About 100 pups have been born so far this season. That figure could rise to about 1,000 by the end of the year.