Expelled Lincolnshire councillor 'committed to UKIP'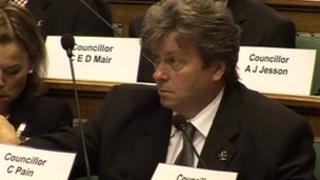 A UKIP councillor who was expelled after he joined a breakaway group says he remains "utterly committed" to the party.
Bob McAuley was one of five councillors on Lincolnshire County Council removed by party bosses on Monday for joining forces with former leader Chris Pain.
Mr Pain was expelled from UKIP earlier following a disciplinary hearing.
UKIP said the councillors had broken party rules by forming another political party.
However, they have been given seven days to return to the original group at the authority before being permanently expelled from UKIP.
Other involved in the breakaway group are: John Beaver, Tiggs Keywood-Wainwright, Alan Jesson and Richard Fairman.
'Great shame'
They are expected to continue under the name UKIG (UK Independence Group).
Details of the reasons for Mr Pain's expulsion have not been disclosed, but he said he was in dispute with party chairman Steve Crowther.
Mr McAuley, who holds the Boston West seat, said Mr Pain's appointment as group leader "wasn't popular with head office [UKIP national leadership]".
He said: "We had no reason why - but things just deteriorated from then on."
He added: "It's the last thing we wanted - I went into UKIP completely and utterly committed to the party, and I still am.
"It's a great shame that this has happened."
UKIP said it had tried unsuccessfully to resolve matters with the members concerned.
Colin Mair now leads the original UKIP group on the council, which has 10 members. At the local elections in May, the party won 16 seats and formed the official opposition on the council.
The Conservatives, which formed a coalition with the Liberal Democrats and several independents after the elections remain the largest group, with Labour the main opposition.