Grantham Hospital: Nick Boles says A&E could still go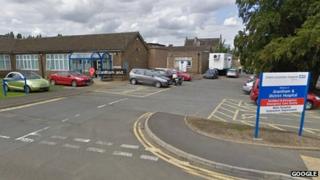 Grantham's MP says the town could lose its accident and emergency department, despite assurances it would stay.
Nick Boles raised his concerns after he "heard noises" from the trust responsible for Grantham Hospital.
The United Lincolnshire Hospitals Trust said it is taking part in a review of health services across the county.
But the NHS commissioning group that covers Grantham said it remains "committed" to keeping A&E at the hospital.
Allan Kitt, chief officer for South West Lincolnshire Clinical Commissioning Group, said: "We've been out to full public consultation; we've spelled out not just what we want to do around A&E but what we want to do around a whole range of areas at Grantham.
"We remain committed to that programme."
'Pretty confident'
Mr Boles said: "What has been concerning me is that in recent weeks we have been hearing noises from the trust that they want to reopen the question of the status of A&E in Grantham, even though only months ago we concluded a consultation which had, as part of it, a continuing A&E service in Grantham."
He said taxpayers in the area had a right to have an A&E department in the area, and if ULHT will not provide that service he will demand the hospital is run by a separate trust.
The hospital has already lost its maternity ward and Mr Kitt said Grantham A&E needs to change.
"We may be doing more there, we may be doing less of something, but we are pretty confident about the future of Grantham Hospital," he said.
"We know that A&E at Grantham is changing [and] needs to change but we believe it will still be there."
In a statement, the United Lincolnshire Hospitals Trust says it is taking part in a widespread review looking at all health and social care services across the county.