Susan Hammond inquest: Anger over missed allergy warnings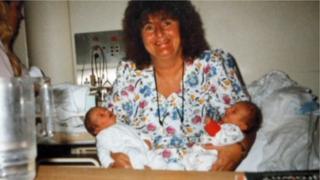 The children of a woman who died in hospital after being given a drug she was allergic to, say they will continue to fight for justice for their mother.
Susan Hammond, 65, from North Clifton, died at Lincoln County Hospital after she was given penicillin in July, 2009.
An inquest at Lincoln Coroner's Court heard medical staff missed seven warnings about Mrs Hammond's allergy.
United Lincolnshire Hospitals NHS Trust has apologised. Coroner Stuart Fisher recorded a narrative verdict.
Mrs Hammond was given the penicillin antibiotic Augmentin and suffered a violent anaphylactic reaction that led to cardiac arrest.
She had reacted badly to penicillin on two previous occasions before she was admitted to hospital on 3 July, 2009, with a suspected chest infection.
'Can't trust doctors'
The inquest heard that when she was admitted it was stated in her notes she had an allergy to the antibiotic, but medical staff missed the warnings.
It meant Dr Viv Gunasekera prescribed the Augmentin, which was then administered to Mrs Hammond by nurse Susan Elliott.
However, Mrs Hammond's children said they would consult their legal team about what steps they could now take.
Mrs Hammond's son Paul, 42, said: " I don't think she [Dr Gunasekera] should still be working, basically."
His sister, Alison Wane, 46 said the family had suffered for four years, following Mrs Hammond's death.
"I've got children, he's got children, when you've got one of your children asking to see their Nan every week because she doesn't realise what's happened - what are you supposed to say?," she said.
"I can't trust doctors, I don't trust doctors at all, not now. It's going to be very difficult."
Mr Fisher said of Dr Gunasekera: "She accepted that with the benefit of hindsight she felt that she had made a serious error of judgment in prescribing Augmentin."
The inquest heard Dr Gunasekera, who is now working as a medical registrar, had not been referred to the General Medical Council, nor had Nurse Elliott been referred to the Nursing and Midwifery Council following the incident.
'Deeply sorry'
Police also investigated Mrs Hammond's death but no criminal action was taken.
In a statement United Lincolnshire Hospitals NHS Trust apologised unreservedly for the mistakes made during the care of Mrs Hammond in 2009.
It said: "Following detailed investigations the trust has accepted that the treatment provided was unsatisfactory in terms of the quality of care.
"The trust had, and continues to have policies and procedures in place for identifying patients' allergies, so that medicines are safely prescribed and administered.
"The trust is deeply sorry for the consequences of the errors made by the doctor and nurse involved and has apologised directly to the family."
Trust bosses have also offered to meet Mrs Hammond's family, should they wish to discuss the case further.