Bomber County aircraft accidents and crashes to be collated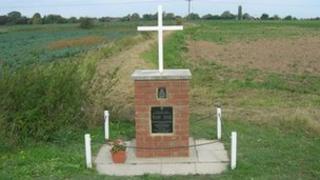 Researchers aim to create a definitive record of all known World War II aircraft accidents that happened in the area known as Bomber County.
Lincolnshire became known as Bomber County because it had more than 100 airfields and airstrips in the war.
Bomber County Aviation Resource knows of about 2,000 crashes and accidents there, but expects to collate information on as many as 4,000.
Some pilots crashed and died before they had finished their training.
The group hopes to estimate accurately, for the first time, how many people died because as a result of aircraft accidents.
Graham Platt, a co-founder of the group, said: "It was wartime, there was an awful lot of dying going on, and that kind of thing was heavily censored at the time.
"The number of aircraft that crashed and people that died was sensitive."
Lincolnshire's high concentration of airfields meant the skies were often crowded.
'Slipping into obscurity'
Some of the accidents and crashes involved German aircraft that had flown over Britain but others involved British and US aircraft.
Civilians were also killed when aircraft flew into people and homes.
"When they tried to land the brakes would fail and the aircraft would carry on beyond the runway," said Mr Platt.
"One overran a field and killed a man cycling along."
Not all of the accidents happened in the sky - some aircraft crashed while taxiing on the ground.
Mr Platt said: "This is an area of the county's history that is in real danger of slipping into obscurity.
"It's a daunting prospect, but we owe it to those involved in these accidents and their families to ensure that this information is recorded and preserved for future generations to be able to access and understand."
The group has been awarded an £11,400 Heritage Lottery Fund grant to do the research.
The volunteer researchers aim to complete the work by summer 2015, to coincide with the 70th anniversary of the end of World War II.
The results will be collated in a book, which will be presented to libraries, museums, RAF stations in the county and national museums of the air forces involved in the accidents.
A DVD will be produced and given to schools in Lincolnshire.
The main research material for accidents involving British planes will be aircraft accident record cards, stored on microfilm.
Copies of these microfilms will be given to Lincolnshire County Archives at the end of the project.