Lincolnshire woman's anger at attacker's caution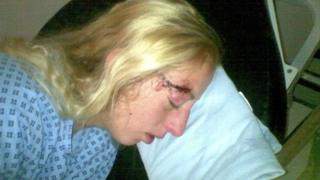 A police force has been criticised after a woman saw her attacker get away with a caution.
Hayley Clayton, from Moulton Seas End, Lincolnshire, said she was attacked at random on a night out. She was knocked unconscious and needed 10 stitches.
Her attacker was not charged and asked to pay a £150 fine and write a letter of apology or receive a police caution. She chose a caution.
Lincolnshire Police said restorative justice could be just as effective.
'Disgusted and let down'
Mrs Clayton, said: "I had quite a nasty gash on my right eye, I had a small fracture. It was very painful.
"Police were on the scene on the night and there were a couple of witnesses. Using CCTV they were able to identify the female who did it and they made an arrest a few days later.
"The officer said it wouldn't go to court and that she could pay £150 and write a letter of apology or get a caution.
"I feel disgusted and let down.
"This person had admitted what she had done and knew it was wrong. I don't think there should be this get-out clause."
Lincolnshire Police said it could not comment on the case as a complaint was being investigated.
However Ch Insp Phil Baker said restorative resolutions were "effective and efficient" and saved time and effort.
He said cautions were still visible on a person's criminal record.
"It prevents the victim needing to go to court and is about the offender understanding the impact of the crime on the victim," he added.
"The research shows that it does work and that is why we support it within Lincolnshire."