Appeal to trace relatives of Sir Isaac Newton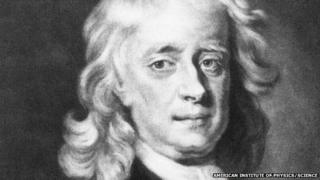 Four generations of a Lincolnshire family related to Sir Isaac Newton have begun a new worldwide project to find more of his relatives.
The scientist, who was born at Woolsthorpe Manor, near Grantham, had no children.
Relatives, descended from William Newton - the great, great uncle of Sir Isaac - have joined a worldwide social media project to trace more relations.
It is being run by the Lincolnshire Age of Scientific Discovery group.
The project, funded by the Heritage Lottery, aims to hold a reunion for relatives at Newton's birthplace in 2014.
'Father of science'
Philip Newton, who represents the 12th generation directly descended from Sir Isaac's great, great uncle William, said he was "very proud to be related to a man widely recognised as the father of science".
He said: "It was relatively easy to trace our connection as Skillington parish records went back to 1515.
"The first name on the register was Robert Newton, Isaac Newton's grandfather and from that date onwards we have got it all authenticated.
"We have always been in agriculture, originally in Skillington, and then my grandfather moved to Barrowby in 1895 and we have been there since."
Mr Newton said it would be "amazing" to find new relatives throughout the world and bring them back for a reunion in Lincolnshire.