Navenby dig: Another building found at Roman site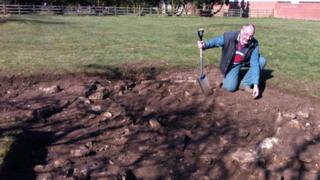 Archaeologists believe they have found another Roman building at the site of a dig in a private garden in Lincolnshire.
The work in Navenby has already uncovered several buildings used as workshops in the 3rd Century.
Volunteers and specialists will continue to dig for another 11 days before the site is filled back in.
The project, which started in April, has also uncovered a portable altar and an offertory stone.
Food preparation
Project leader Ian Cox, of Navenby Archaeology Group, said: "Signs of another wall have started to appear - so we need to clean everything down and then reassess what we are going to do.
"There is certainly a very large yard area - and that seems to be hiding this other building.
"We are down to the 3rd Century levels and it is just a matter of taking the final piece off to see what is underneath.
"We have already found three or four buildings which are mostly industrial units rather than domestic ones because there is a serious lack of personal artefacts."
He said there was evidence of metal work and food preparation, including bones from cattle, sheep and goats.