Manor Leas Junior Academy's Sats results thrown out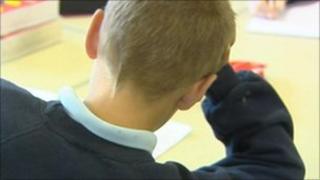 Exam results for an entire year at a Lincoln school have been thrown out amid concerns over "false marking".
Manor Leas Junior Academy's Sats results from the summer were annulled by the Department for Education (DfE).
It followed an investigation by the Standards and Testing Agency (STA) prompted when one exam paper too many was submitted for marking.
Head James Greenwood said pupils' education was not affected and teacher assessments reflected their progress.
The problem arose when an external marker for the school's Sats flagged up an extra exam paper.
When the school could not account for the paper, Mr Greenwood referred the matter to the STA which investigated.
A spokesman for the DfE said the STA found "maladministration" and took the standard step of annulling all the Year 6 results.
"We take any allegation of false marking very seriously," he added
"Following an investigation, the Standards and Testing Agency annulled the results of the maths and grammar, punctuation and spelling Key Stage 2 tests at Manor Leas."
The school has not been inspected since converting to an academy but was ranked good overall by Ofsted last year.
In a statement, Mr Greenwood said the problem was down to an "internal staffing issue".
"The incident was dealt with robustly and professionally with the exam board in line with school policies," he said.
"I have been advised that I cannot discuss discipline issues due to legal reasons and confidentiality."
He added: "I wish to make it clear that the education of the pupils at Manor Leas Junior Academy has not been affected and we will continue to provide excellent standards of teaching and learning."
Because the school's results were annulled, it will mean no pupils achieve level four in their Sats, the measure used in the league table.
Schools are expected to get the majority of children to level four by the end of Key Stage 2.
It also means the children have no formal measure of their progress to take to secondary school.
One parent, who did not wish to be named, said she did not have a lot of faith in the system.
"I got a letter about three weeks ago saying that the marks had changed and they were unable to give a specific grade," she said.