Lincolnshire hospitals: Trust boss Paul Richardson defends 'legacy'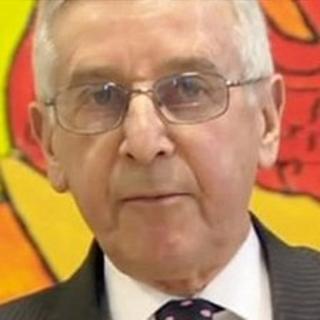 The retiring head of Lincolnshire's troubled hospitals has defended his legacy.
Paul Richardson has been chairman of United Lincolnshire Hospitals Trust for the past four-and-a-half years.
During that time the trust faced a string of critical inspection reports and was recently placed into special measures by the government.
Mr Richardson said the trust had made "tremendous progress", but admitted he would have preferred "quicker" change.
'Oil tanker'
Most recently the trust came under the spotlight as part of the Keogh review into high death rates.
Mr Richardson said he would leave at the end of December but the search for his successor would begin immediately.
"We are making tremendous progress in many fields. This is a massive organisation not unlike an oil tanker that takes quite some time to slow it down and turn it around and get it going in the other direction.
"I am proud of various aspects of the legacy but I am not proud that I was unable to make the 'tanker' change direction quicker."
He said not all the Care Quality Commission (CQC) reports on the trust were negative, adding that a CQC report in December 2012 was "very good indeed".
"The situation that this organisation is in now is a darn sight better than it was when I arrived here," he added.
"However, I always intended to retire at the end of 2013 and I feel that it is now time for me to pass on the baton to someone new."
In June and July a CQC inspection criticised Lincoln County Hospital and Boston Pilgrim Hospital for low staffing levels and a lack of training.
An overhaul of management practices and a recruitment drive were put in place but the trust is currently running a deficit of £17m.
As part of the special measures, which cannot be lifted before a new inspection early next year, Sir Andrew Cash from Sheffield Teaching Hospitals has been appointed to work with the trust.
Chief executive Jane Lewington praised Mr Richardson and said during his remaining months they would "continue collectively to realise the tremendous potential of United Lincolnshire Hospitals NHS Trust".