Boston Christmas row murder: Slawomir Dziob guilty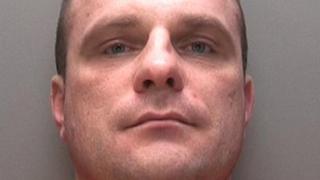 A man has been found guilty of murdering a migrant worker in Boston after an argument at a Christmas Eve party.
Slawomir Dziob, 35, had denied killing Jan Pavel Stochnialek, 28, whose body was found in a waterway in Boston, Lincolnshire, in January 2012.
The jury at Lincoln Crown Court took 90 minutes to return a guilty verdict.
Mr Stochnialek , who lived with his girlfriend in Boston, was last seen alive at a party held at Dziob's home.
Dziob, formerly of Fieldfare Croft, Boston, was also convicted of perverting the course of justice and will be sentenced later.
During the two week trial, the jury heard the two men were involved in a heated argument over a claim Mr Stochnialek had paid money for Dziob to be beaten up.
Dziob left the rented house immediately after the party and moved to Salford.
He was arrested after the discovery of Mr Stochnialek's body in the South Forty-Foot Drain on 25 January.
A post-mortem investigation showed Mr Stochnialek had more than 30 injuries and was dead before he entered the water.
Forensic evidence revealed traces of the victim's blood on carpets, walls and the ceiling of the Fieldfare Croft property and on Dziob's shoes and watch.