Biscathorpe protest over oil drilling plans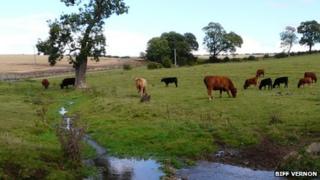 Residents in Lincolnshire are holding a protest walk against a company's plans to drill for oil in a field close to their homes.
Egdon Resources Ltd wants planning permission for an exploratory well at land at Biscathorpe, near Louth.
The firm said it was "always open and transparent" with planned operations and stated that "no fracking would take place" in the area.
Lincolnshire County Council is due to consider the application next month.
'Democratic processes'
Local environmental campaigner Biff Vernon said 70 people had objected to the plans and Sunday's three-mile walk from Donington-on-Bain to Biscathorpe was to raise awareness.
He said concerns had been raised about the potential pollution of the nearby river, traffic noise and the spoiling of a local beauty spot.
"I have been aware for a long time that they [Egdon Resources] have had an interest in this area," he said.
"But many people only became aware in August when the plans were submitted and published and people are now beginning to realise what is going on.
"All we can do now is go through the democratic process to prevent it happening at the planning stage rather than further down the line when it is too late."
The plans for the site involve sinking a 2,000m (6,500ft) borehole to test for commercially viable reserves of hydrocarbons.
An Egdon spokesperson said the company had given a legal undertaking as part of its agreement with the landowner that no shale-gas, shale-oil or gas storage activities would be undertaken.
Egdon said the site would be returned to its original condition if drilling was unsuccessful and any further drilling would be subject to a new planning application.