Lincolnshire council lobbies government over fuel discount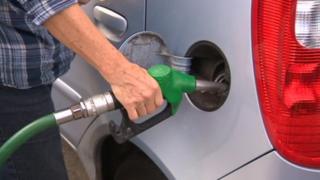 Councillors are to write to the chief secretary of the treasury Danny Alexander demanding Lincolnshire be included in any rural rebate on fuel.
The government is considering knocking 5p off petrol and diesel sold in rural areas, similar to a scheme run on Scottish islands and the Scilly Isles.
Lincolnshire was not included in the consultation.
The treasury said this was because only places with similar costs to the islands in the scheme are eligible.
Motion passed
Mr Alexander said the scheme aimed to keep fuel prices down where costs of transporting petrol and diesel were high.
A consultation with businesses in Cornwall, Cumbria, Devon, Herefordshire, North Yorkshire, Northumberland as well as parts of Wales, Scotland and Northern Ireland ended last month with the results expected imminently.
Tony Bridges, a Conservative councillor on East Lindsey District Council and Lincolnshire County Council, prompted both local authorities to write to Mr Alexander, lobbying him for the discount.
On Wednesday, a motion he suggested was passed, calling on support for the letter by the district council - one of the more rural areas of Lincolnshire.
'Blocked Lincolnshire'
"When you look at Lincolnshire it compares very favourably with the other areas on the list, both in terms of deprivation and how rural it is," he said.
"They seem to have just blocked Lincolnshire out completely and for what reason?"
The Treasury said strict rules set down by the European Commission had to be met before the discount could be applied.
It selected the areas for the consultation because they were the most likely to meet the criteria, a spokesman said, which included having similar fuel prices as the Scottish islands where the scheme is already in place.
"The responses are being considered at the moment. If for whatever reason, one of the regions not on the initial list meets the criteria its case will be put forward," the spokesman added.
"But the point is, this is about building the best evidence and we don't think the regions outside those places selected will have the right pricing criteria."