Lincolnshire trust fined over Boston radiation exposure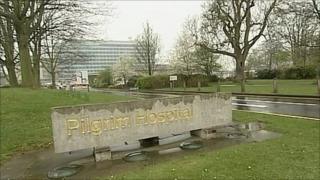 United Lincolnshire Hospitals NHS Trust has been fined after a radiologist was exposed to a significant amount of radiation at one of its hospitals.
The interventional radiologist was working with a CT scanner at Boston's Pilgrim Hospital.
The Health and Safety Executive (HSE) said the worker received more than double the annual limit for skin exposure in just over three months.
Boston magistrates fined the trust £30,000.
The trust, which admitted breaching two ionising radiations regulations, was also ordered to pay £15,128 in court costs.
The scanner, which was bought by the trust in 2009, had been used by a number of other consultants using the conventional "shoot and step" method in which they left the room while it was generating X-rays, the HSE said.
'Isolated incident'
However, the radiologist concerned favoured the fluoroscopy mode, which involved him operating the X-rays for up to 30 seconds at a time.
As an interventional radiologist he inserted biopsy needles into patients and placed his hands into the main X-ray beam.
An HSE investigation found the trust had never carried out a risk assessment for the scanner operating in fluoroscopy mode even though managers were aware this technique was being used.
Speaking after the hearing, HSE inspector Judith McNulty-Green said: "The regulations require exposures to ionising radiation to be kept as low as is reasonably practicable. In this case the dose to the radiologist's hands was twice the relevant legal dose limit.
"As United Lincolnshire Hospitals NHS trust failed to assess the risk of this machine operating in continuous mode, it led to the interventional radiologist and patients being exposed to radiation for far longer and to a much greater extent than should have been allowed."
United Lincolnshire Hospitals Trust said in a statement that it fully accepted the outcome of the proceedings.
A spokesman said: "We are confident that this was an isolated incident and have implemented a series of measures to ensure that it is not repeated.
"These include reviewing working practices for all staff working with ionising radiation and further developing checklists for all areas radiologists work in to provide a more comprehensive training record.
"It is important to stress that no patient was exposed to excess radiation."