Bishop of Grantham Tim Ellis steps down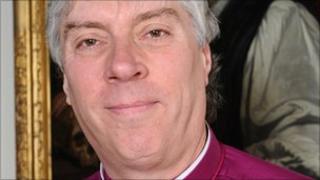 The Bishop of Grantham is stepping down after 13 years' service in the Diocese of Lincoln.
The Right Reverend Tim Ellis is leaving the role later, 37 years to the day that he was ordained in Manchester Cathedral.
He will continue as an assistant bishop in the Diocese of Lincoln.
Dr Ellis, who in April criticised the cost of Margaret Thatcher's funeral, said it was a "privilege" to have been part of Lincolnshire's "ongoing story".
During his career, Dr Ellis helped families affected by the Hillsborough disaster and stood as chairman of various social enterprises.
Dr Ellis, who is moving back to Sheffield, said: "I am extremely sad to be leaving Lincolnshire. I've grown accustomed to Lincolnshire, I love Lincolnshire.
"I've been privileged to work throughout the whole county, having said that, life's all about beginnings and endings and I'm looking forward to what comes next."
After studying theology at King's College London and St Augustine's College, Canterbury, Dr Ellis was ordained deacon in Manchester.
He said that was "a particular challenge for someone who is a lifelong supporter of Sheffield Wednesday".
Throughout his tenure in Grantham he was known for the occasional controversy, most noticeably when he spoke out about the cost of Margaret Thatcher's funeral, saying it should have been more "low-key".
He said he hoped he was not the same as other bishops but added: "I am who I am and if who I am tends to be different from what other people in the church are like and their image, then that's as it is.
"But it's not crafted and I don't do it deliberately."
Earlier this year, the Bishop of Lincoln, the Right Reverend Christopher Lowson, said: "Tim has faithfully served in the diocese and we are grateful for his work and ministry, particularly his expertise in church buildings and his work in the challenging urban areas of the diocese.
"We keep Tim and his family in our prayers as he prepares to move on."
Dr Ellis is married to Susan, a special needs coordinator at a school in Sheffield, and they have three, grown-up children.