Stamford Hospital set for £3.8m investment in services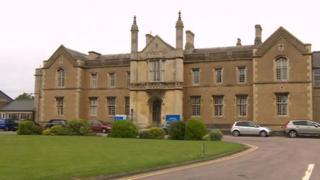 Plans to revamp a Lincolnshire hospital which were put on hold because of a funding crisis look set to be approved.
The £3.8m Stamford Hospital proposals were drafted in January, but health watchdog Monitor intervened when it emerged the trust had a £45m deficit.
Peterborough and Stamford Hospitals NHS Foundation Trust has now agreed a five-year rescue plan with Monitor.
It means the hospital can press ahead with its plans including more cancer treatment and selling some land.
The trust said it faced "unsustainable" losses because of a private finance initiative used to pay for Peterborough City Hospital, prompting fears Stamford Hospital could close.
'Increase services'
The three-year plan was held back when health watchdog Monitor stepped in, but it gave its consent to the proposals and on Tuesday it was put before the board of directors.
Stamford Hospital currently has an outpatients department, a minor injury unit, one operating theatre and a day surgery unit.
John Randell, medical director at the trust, said the changes would see an increase in cancer treatments, dermatology, gynaecology and maternity care but it could mean the loss of the operating theatre.
"Overall it will actually increase the services available in Stamford over what is currently there," he said.
It is predicted that more patients will use the hospital once the changes are made, helping to improve the trust's financial position.
The plan now has to be ratified on 9 October before it can go ahead.