Boston bike rack repairers rewarded with kebabs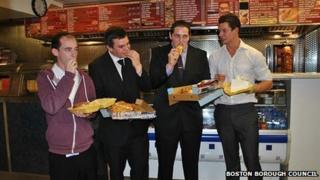 Revellers who repaired a bike rack on a night out in Lincolnshire have been honoured with a free takeaway and thanks from the town's mayor.
Martin Griggs, 24, Dean Mason, Simon McMillan, Dan Butler and Jordan Doughty, all 23, were seen on CCTV fixing the rack in Boston.
The men were given certificates by mayor Paul Kenny and a kebab from Boston Delights on Monday evening.
They have appeared on TV and in the national press since the event.
Mr Griggs said they "did something good and we've been rewarded for it".
'Next trick'
The 24-year-old said he was baffled by the amount of attention but admitted he had enjoyed it.
"We did it at the end of the night and didn't think anything of it," he said.
"The weirdest thing is that if I've been in one of the local pubs, people come over and ask if they can have their photo taken with me - all I did was bend some metal."
Mayor Paul Kenny presented the group with certificates at a meeting of Boston Borough Council.
He said they had "brought the town some fun and brought it some pride".
"I'm not sure what you're going to do for your next trick but before you do, come and have a word with us," he said.
The group spent 13 minutes fixing the rack, near the Boston Delights takeaway, after a night out in August and were spotted by someone working in the CCTV control room.
Mr Griggs, who is a cyclist, said he saw the bent metal railing after eating his takeaway and asked his friends to help repair it.