Lincolnshire UKIP councillor Chris Pain expelled from party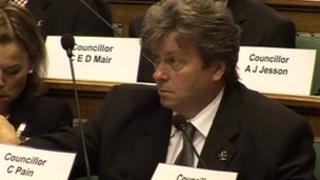 The former leader of UKIP on Lincolnshire County Council has been expelled from the party.
Councillor Chris Pain was removed following a hearing in front of a UKIP: disciplinary panel in London.
Details of the reasons for his expulsion have not been disclosed, but Mr Pain said he was in dispute with party chairman Steve Crowther.
Mr Pain said he "feels sickened" at the way he has been treated and planned to appeal against the decision.
'Dynamite to crack walnut'
Mr Pain, a councillor for Wainfleet and Burgh, said: "After nine years of hard work, and achieving some of the best results in the history of the party, they are throwing me out.
"It seems like they've used a stick of dynamite to crack a walnut."
He added: "I've always thought the party was just and fair - but this raises some grave concerns about the leadership."
UKIP is yet to comment on the decision to remove Mr Pain.
The party gained 16 seats on Lincolnshire County Council in May, causing the Conservatives to lose overall control and form a coalition with the Liberal Democrats and several independents.
Earlier this month, following suspension by the party, Mr Pain was removed as leader of the group on the county council.
He then formed a breakaway group with five other members under the banner of "UKIP Lincolnshire".
Councillor Colin Mair, who represents Tattershall Castle, was appointed acting leader in the county.