Lincolnshire hospitals: Low staffing levels and poor training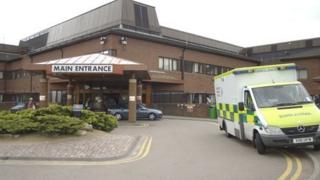 Two Lincolnshire hospitals have failed to meet any national standards after a series of unannounced inspections.
The Care Quality Commission (CQC) criticised Lincoln County Hospital and Boston Pilgrim Hospital for low staffing levels and lack of training.
United Lincolnshire Hospitals Trust, which runs the hospitals, was one of 11 trusts in England placed in special measures in July.
The trust is set to be taken over by managers from top-performing hospitals.
Health Secretary Jeremy Hunt announced the plans for the 11 failing trusts on Thursday morning.
The proposals would see bonus payments available to trusts if standards are raised at failing sites.
'Bitter pill'
The independent CQC carried out inspections at Lincoln County and Boston Pilgrim on seven days in June and July.
The trust was placed in special measures following the review by NHS England medical director Prof Sir Bruce Keogh's review of hospitals with high mortality rates.
CQC spokesman Andrea Gordon said: "This is not acceptable and it is disappointing that we are again talking about this hospital trust in these terms.
"Our inspectors found caring and dedicated people working at the hospitals but they were being let down by low staff numbers, a lack of training and systems in place to ensure they could carry out their work effectively.
"Far worse is the fact this resulted in patients being let down."
Inspectors found staffing levels had an impact on "the care and treatment of patients, communication between clinical staff, the maintenance of patient records and access to staff training and appraisals".
Low staffing levels meant staff could not care for their patients properly and "this caused them considerable stress", the report said.
One nurse told the inspectors: "You just walk through the door, you feel you have failed. So much work."
The CQC said staff were "caring and dedicated" and most patients gave positive feedback about their care.
But the CQC report added that earlier improvements "had not been sustained".
Trust chief executive Jane Lewington, said: "We take our responsibilities to provide excellent patient care extremely seriously and are focused on meeting constantly rising expectations around our quality of care. "
She said the trust had spent £4m on nurse recruitment with 165 new nurses hired since April and 87 new qualifiers due to start this month.
Lincoln MP Karl McCartney, said: "It is hugely disappointing that ULHT is not meeting any of the national standards the CQC looked at and another very bitter pill for patients in Lincolnshire to have to swallow."