Saxilby couple find World War I medal in back garden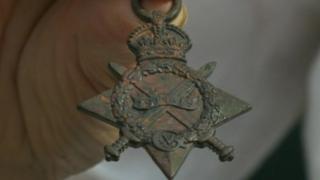 A couple who discovered a World War I medal in their back garden are hoping they can trace the descendants of the naval seaman it belonged to.
Katie and Paul Roberts from Saxilby, Lincolnshire, came across the 1914-15 Star as they dug up soil for a new flowerbed.
With the help of a local history group they have managed to find out some details about the owner.
It is believed the medal belongs to a Sheffield man called Ernest Clarkson.
"It is just such a miracle to have found it," said Mrs Roberts.
"It is very interesting and very historic. I'm pleased we found it and hopefully someone will come forward to claim it."
The couple enlisted the help of their local history group to trace the owner's name, address, service number and family details.
Important find
They believe Mr Clarkson was born in Sheffield in 1890.
He joined the armed forces in 1906 and served on HMS Bellerophon as a naval seaman.
They traced his address to Carlisle Street East in Sheffield, which has been an industrial estate for several years.
Mr Clarkson is thought to have married Edith Tuxford and they had five children - Eric, Ethel, Alfred, Doria and Mabel.
The group believe the medal came to be in Saxilby via the Saxilby Canal, where Sheffield residents often visited on bus trips to fish.
Dr Jane Chapman, professor of communications at the University of Lincoln, said finds of this kind were still important for piecing together the life of people who fought in World War I.
She said: "It is a fairly standard medal and was given out just for being there but it is still of interest to historians and museums.
"He was on a dreadnought in the navy and they are hugely interesting because the rivalry for building up a dreadnought was one of the things that caused the tension between Germany and Britain and caused the First World War.
"He then went on to the Battle of Jutland in 1916 which was a hugely important battle for us and the British Navy."