The Lincolnshire street with '500' pothole repairs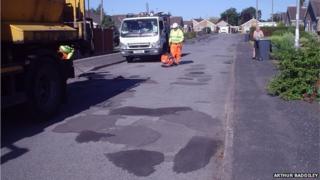 A council has agreed to resurface a street which residents say has about 500 pothole repairs.
The street in Lincolnshire has been fixed so many times that its appearance has been compared to a patchwork.
Many people in Conway Drive, North Hykeham, are elderly and say the damaged road and pavements are preventing them from getting around.
Lincolnshire County Council said it was trying to "get on top" of potholes but has to prioritise its money.
Councillor Richard Davies, the council's portfolio holder for highways and transport, said: "That particular road does suffer because agricultural vehicles use it and it takes a real hammering.
"What's been done is only a temporary measure and next year we are going to resurface the whole road."
'Utter disgrace'
Ian Clarkson, who has lived on Conway Drive for three years, has Parkinson's disease and said the potholes made it difficult for him to cross the road.
"One lady, who has got an electric [wheel]chair, is stopping in now because she says it's too dangerous on the road.
"It's 35 years old and it's never had any maintenance on it and it's just had it.
"It's an utter disgrace and it's just breaking up daily."
Mr Clarkson said the potholes had also damaged cars and devalued houses in the street.
"Once a month we have to have the pothole gang down to fill holes. We must have had them down 12 or 15 times in the last year," he said.
"They come and do 30 or 40, then three or four weeks later we ring and tell them there's another 20.
"It looks like a patchwork."
He said the residents had been fighting for a year to get the road resurfaced.
A petition was signed by 79 of the 80 people who live on the street, but the council agreed to resurface the road before the petition was submitted.
Mr Davies said potholes had been more of a problem in the last few years because of "atrocious" winters.
"This year we've filled an additional 50,000 potholes," he said.
"We are getting on top of it and I'm very pleased we are."