Environment Agency builds landing jetties for otters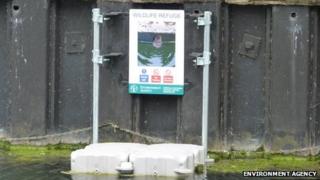 Floundering otters have been thrown a lifeline with landing jetties installed on a river.
Otters have been spotted in the River Welland in Spalding, Lincolnshire, with one youngster struggling to climb out of the water.
An Environment Agency officer heard its cries and lowered a pallet so it could get out of the water.
Now eight permanent refuge platforms have been installed to help any passing otters.
The sighting last year was the first time otters had been seen on that stretch of the river, which at that point is a channel with steep walls as sides.
Nikki Loveday, of the Environment Agency's fisheries and biodiversity team, said: "The otters were hanging on to the fence that is attached to the piling in an attempt to climb into a highways outfall pipe some 1.5 metres above the water.
"Luckily, our operations guys heard one of the otters crying and lowered a pallet into the water for the otters to climb on to.
"After regaining their strength, the otters got back into the water and swam off."
Ms Loveday said the pontoons would reduce the risk of otters from drowning.
She also said otters being in the river was a clear indication the quality of the water on that stretch of the river was improving.