Boston has thousands of unrecorded migrants, council claims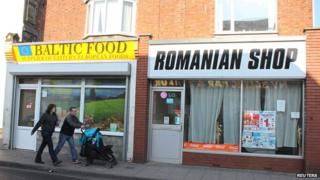 A Lincolnshire council claims it needs extra money from central government because about 10,000 unrecorded migrants are living in its borough.
About 65,000 people live in Boston according to the 2011 census, but Boston Borough Council claims the real figure could be as high as 77,000.
The population has risen from about 56,000 in 2001, and the council says services are under pressure.
But the government says it must prove the population figures are wrong.
Conservative councillor Mike Gilbert said doing so would be "very difficult".
"It's a bit like looking for the God particle," he said.
"You need to use a range of different statistical records. It's a case of triangulating those different figures to try and get a more accurate figure which is going to satisfy the government."
Immigration protest
The most recent census suggested that Boston has the largest proportion of non-British EU passport holders outside of London - with 12.1% of Boston residents holding such passports.
The Lincolnshire average was 3.5%.
Many people originally migrated to Boston to do seasonal agricultural work, and there are now established eastern European communities.
UKIP took 16 seats off the Conservatives in Lincolnshire's local elections earlier this year, which some attributed to concerns about the rising migrant population.
A protest to highlight the pressure placed on local services by immigration was held in Boston in November.
Brandon Lewis, parliamentary under secretary of state at the Department for Communities and Local Government, visited Boston this week to see the impact of immigration on local services.
He said more money could be made available if the council could prove the migrant population was larger than official figures.
Some community leaders believe the official statistics may be missing migrants who live in multiple occupancy households.
Ziedonis Barbaks, from the Latvian Community of Boston Stronger Together, said: "I'm not sure about the 10,000 [figure] but it's hundreds and hundreds of people around Boston.
"They are living in like 10 or more people in one house."
Centrepoint, a homelessness charity in Boston, believes some rough sleepers could be missing from the statistics.
Chief executive Liz Hopkins said: "Last month in our drop-in centre we saw 41 people who presented themselves as being homeless, and of those, 80% were foreign nationals."