Lincolnshire UKIP councillor Chris Pain removed as group leader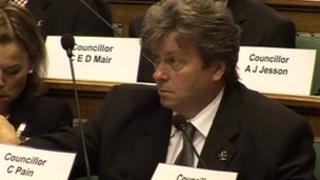 A councillor suspended by UKIP has been removed as leader of the party's group on Lincolnshire County Council.
Chris Pain said he had been suspended from UKIP because of a "serious issue" between himself and national chairman Steve Crowther.
Nine of Lincolnshire's UKIP councillors have now signed a letter to the county council's chief executive saying Mr Pain has been removed from their group.
A national UKIP spokesman would not comment on why he had been suspended.
He said: "Chris Pain has been suspended under the emergency powers of the chairman of UKIP.
"It would be wrong and unfair to say anything more about the case before the committee has heard the evidence against Mr Pain and his defence."
UKIP gained 16 seats on Lincolnshire County Council in May, causing the Conservatives to lose overall control and form a coalition with the Liberal Democrats and several Independents.
Racism allegations
Mr Pain continues to be a councillor for Wainfleet and Burgh, and he told BBC Radio Lincolnshire "there is no way I would desert the voters".
"I put a complaint against UKIP national chairman Steve Crowther which might be subject of legal action and I can't discuss that any further at the moment," he said.
"It's just a serious issue between myself and Steve Crowther."
Councillor Colin Mair, who represents Tattershall Castle, has been appointed acting UKIP leader in Lincolnshire.
Mr Pain was investigated by Lincolnshire Police for alleged racist remarks posted on Facebook, but police said on Monday no action would be taken against him.
Tony McArdle, chief executive of Lincolnshire County Council, said: "We have today received notification from a majority of the members of the UKIP group to the effect that Councillor Chris Pain is not now a member of that group and consequently not its leader.
"As from today, Councillor Colin Mair will be acting as leader of the UKIP group."