Lincolnshire UKIP councillor Chris Pain suspended by party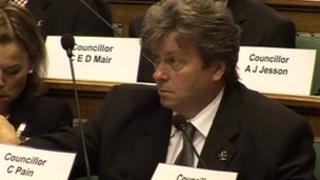 The leader of UKIP on Lincolnshire County Council has been suspended by his national party, a UKIP spokesman has said.
Councillor Chris Pain, who will remain opposition leader on the council, will appear before a party discipline committee in London in the next 10 days.
He was elected along with 15 other UKIP councillors in May local elections.
A UKIP spokesman would not reveal the reason for his suspension.
Mr Pain was investigated by Lincolnshire Police for alleged racist remarks posted on the social media Facebook website, but police said on Monday that no action would be taken against him.
A UKIP statement said: "Chris Pain has been suspended under the emergency powers of the chairman of UKIP."
"It would be wrong and unfair to say anything more about the case before the committee has heard the evidence against Mr Pain and his defence," the statement said.
Mr Pain, who was not available for comment, is councillor for Wainfleet and Burgh.