UKIP councillor Chris Pain to face no action on Facebook post probe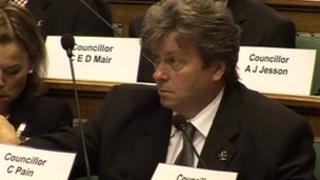 A UKIP councillor who faced an investigation into alleged racist comments on Facebook will face no further action, police say.
In May, the Mirror alleged Chris Pain, opposition leader on Lincolnshire County Council, posted a "sickening rant" about illegal immigrants.
Mr Pain denied the allegations and said his Facebook account had been cloned.
In June, he stepped down from his role as UKIP's regional chairman while police investigated.
Following an inquiry, a spokesman for the force said: "Police are reliant on there being a sufficient amount of evidence [in order] to prosecute anyone suspected of carrying out crimes of this nature.
"There has to be an audit trail to prove the person suspected of displaying information on the web is actually the person pressing the computer keys."
He added: "It is always possible for false profiles to be created and information to be posted on a user's account without their knowledge.
"In such cases, it is very difficult for police to trace the origins of the information and to be sufficiently certain that the person alleged to be displaying some comment or information actually did so."
'Cloning sites'
Mr Pain, who is the councillor for Wainfleet and Burgh, said the comments posted online were "sick".
He said: "I had a phone call last week confirming that police were closing the case and that there was no evidence against me, whatsoever."
He added: "The Mirror stated these posts were on my page - but they weren't on my page at all."
Mr Pain said: "There are simple cloning sites which allow you to clone someone else's Facebook account.
"It was never on my page - the things had been posted elsewhere as though they had come from myself," he said.
"The important thing is for people to realise if they see anything like this they have to report is straight away to police so they can check who has posted it."
Mr Pain said the investigation had been "very hard" because he had "friends of all nationalities".
He added: "I've had strong support from the community who know I'm not a racist."
He said the posts were part of a smear campaign against himself and UKIP.
UKIP's national executive committee declined to comment but previously said it "deplores racism" and that the party was under attack from several organisations trying to undermine its credibility.
Mr Pain said it was unlikely he would stand for the regional chairman's position again due to his increased commitments in Lincolnshire.