Lincolnshire village plans monument for pilot poet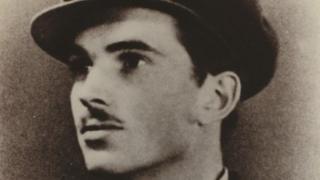 A Lincolnshire village is planning to erect a monument in memory of World War II poet John Gillespie Magee.
The poet, who is famous for his poem High Flight, was billeted in Wellingore while serving with the Royal Canadian Air Force (RCAF) 412 Squadron.
Roger Cole, chairman of the parish council, said every year hundreds of tourists from across the world came to Wellingore to pay tributes to Magee.
The village plans to create a circular route for visitors to follow.
'Coaches of tourists'
Mr Cole said he hoped the route would incorporate a marble and granite monument on the Mill Field, with inscriptions of Magee's poems.
"We get coaches of tourists from Germany, China, Canada and America - although not many from the UK - but there is nothing to show Magee lived here," said Mr Cole.
"The community here are really keen to change that."
The council has commissioned designers to create a model of the proposed monument. The model is being displayed at an exhibition dedicated to the poet at the Natural World Centre in Whisby.
Mr Cole said the council was now liaising with the RCAF and the Heritage Lottery Fund about finding the £250,000 required to erect the monument.
They are also speaking to Lincolnshire County Council about the possibility of taking over the running of the village library and creating a permanent exhibition dedicated to Magee inside.
Mr Cole, who has written a biographical study of Magee, says he has an extensive collection of Magee memorabilia which he plans to donate to the library.
Theresa Hobbs, business manager at the Natural World Centre, said they were holding their exhibition, which opens today, to raise awareness of Magee's links with Lincolnshire.
"A lot of British people don't know he's buried in Lincolnshire and that's incredibly sad," she said.
Magee was one of 1,500 men billeted at Wellingore Hall during the war.
He served at RAF Digby, near Sleaford. He wrote one of his poems, Per Ardua, while in Wellingore.
His last flight was out of Wellingore airfield, in December 1941, when he died, aged 19, in a collision with another aircraft.
He was buried at Scopwick Cemetery, near Digby.