Lincolnshire house builder Chestnut Homes fined for Justin Gillman death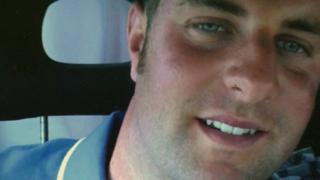 A judge has described a bricklayer's death as "an accident waiting to happen" after Lincolnshire house builder admitted safety failures.
Justin Gillman died when he fell from scaffolding and was crushed by bricks at a building site in Skegness in 2010.
At Lincoln Crown Court, Chestnut Homes - owned by Boston United chairman David Newton - was fined £40,000.
Manager Peter Tute was given 240 hours community service. Mr Gillman's family said it was "nowhere near enough".
The 26-year-old, from Holland Fen, near Boston, died when he fell from the scaffolding and the bricks he was pulling on a trolley crushed him.
His family said they hoped lessons would be learnt from his death but questioned the severity of the sentence.
'Nothing at all'
His father Alan said: "We are always thinking of Justin. Two-hundred and forty hours for gross negligence is nowhere near enough.
"The £40,000 fine for a company that's portrayed to be worth millions is nothing at all."
The court was told Mr Gillman was walking backwards pulling a trolley of bricks when he fell. There was no guard rail to stop the fall.
An HSE investigation established the scaffolding was erected by two untrained workmen and that it was considered dangerous.
But Tute, described as an experienced site manager, decided it was safe.
Judge Michael Heath, in sentencing, said: "No fine that I could impose, nor any sentence that I could impose, could in any way measure the value of the life of Mr Gillman.
"The fine that I imposed was not intended to do so. It could not because every human life is priceless."
Christopher Donnellan QC, defending Tute, said his client was deeply sorry for his "massive mistake and this error of judgement".
Both Tute and Chestnut Homes admitted breaching Health and Safety at Work legislation.
The court will determine the costs to be paid at a later date.