Joseph Stalin death mask cast fails to sell at auction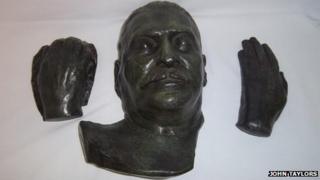 A cast of a Joseph Stalin death mask found in a Lincolnshire home has failed to sell at auction.
The cast was taken in bronze from the original plaster death mask by an art dealer who was visiting Moscow in 1990.
Auctioneers John Taylors had expected the mask to fetch between £2,000 and £3,000.
Death masks began in Greece and Egypt to preserve the features of a person after their death. They were commonly associated with artists and composers.
James Leverack, director of the auctioneers, said: "We have sold some fairly macabre things in the past but nothing of this nature."
He added: "They came into our valuation clinic from the previous owner who had no idea what they were or who they were of.
"He didn't know too much about how they ended up in the family either."
Stalin's death mask was taken before his body was embalmed.
A similar mask and cast of Stalin's hands were sold at an auction last year in Shropshire for £3,600.