Dunholme pub loss 'devastating' claims residents' group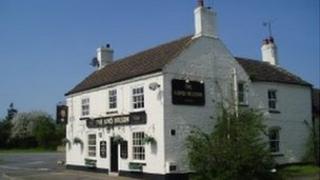 A residents' action group is opposing plans to demolish a former pub to make way for a food store in a Lincolnshire village.
The Co-operative bought the now closed Lord Nelson Pub, in Dunholme, and put forward a planning proposal which includes removing it.
Campaigner David Rossier said the pub could be saved for the village and used as a "community asset".
The Co-op said a food store would mean a "sustainable use" for the site.
'Mixed response'
Mr Rossier, from the Save Dunholme Amenities Action Group, said: "The Lord Nelson has been in Dunholme since about 1823.
"There's a real danger that once this pub has gone, it's gone forever.
"There's an opportunity to revitalise it and bring it back to economic use as a community asset.
"If we lose it it will have a devastating effect on the local community."
But Emma Snedden, from the Lincolnshire Co-operative, said: "We bought the site and we've come up with a plan we believe is a way into sustainable use.
"We're not a retailer that runs pubs. The pub was on the market to be bought as a development opportunity.
"It's fair to say the response was mixed."
A decision will made at a planning meeting on 18 September.