Union warns of less ambulance cover in Lincolnshire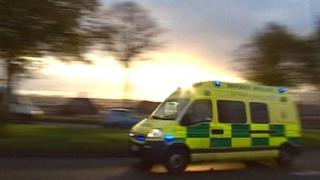 Union leaders have warned that parts of Lincolnshire could be left with less ambulance cover after plans to reform services were given the go-ahead.
East Midlands Ambulance Service (EMAS) proposals include cutting ambulance stations from 18 to three.
Colin Todd, from the GMB Union, which represents paramedic staff, said ambulances would struggle to make an eight minute national response time.
EMAS said the reorganisation of its services would help response times.
A planned reorganisation of the county's services was referred by the secretary of state to an independent review body in June, following concerns raised by the Health Scrutiny Committee.
EMAS confirmed on Friday that the body had approved its plans.
'National targets'
However, the GMB trade union said it would continue to campaign against the proposals.
"Rural areas will suffer," said Mr Todd. "There needs to be a bit more thought about how to keep the ambulances in the areas they're supposed to be representing.
"If you try to travel from Sleaford to Bourne I don't think you could do that within eight minutes, or, Boston to Spalding within eight minutes, so there's issues there."
Jon Sargeant, interim chief executive of EMAS, said: "The plans are all aimed at making sure we hit the national targets and we look after our patients to the best of our ability.
"In rural areas we do need to make sure we've got the right resources in the right places or that people [ambulance crews] are close by."
EMAS has been fined £11m over three years for missing response time targets.
In March, its five-year plan to create three "super-hubs", 19 smaller stations and 108 community points was approved by its board.
The super-hubs are planned for Lincoln, Boston and Grantham.