Lincoln Steep Hill bus service saved from closure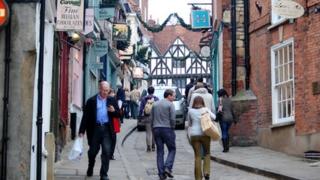 An under-threat bus service which helps people avoid Lincoln's notorious Steep Hill has been saved from closure.
The city council was proposing to axe the Walk and Ride service, which is used by more than 70,000 passengers a year, because it said it could no longer afford to run it.
A business group and local bus firm will now operate the route until 2015.
However, if the service fails to attract more passengers it could still be closed.
Steep Hill dates back to Roman times and connects the cathedral and castle to the high street shopping area of Lincoln.
Matt Corrigan, chief executive of the Lincoln Business Improvement Group, said: "It's great news that the partnership arrangement between Lincoln BIG and PC Coaches will allow the service to continue."
He added: "There is still a shortfall in funding to make the service viable long term and we hope to achieve this from sponsorship and advertising revenues.
"We also hope to boost passenger numbers by promoting the service to tourists."
As part of the deal, the council will donate the existing Walk and Ride buses to Lincoln BIG, with Lincolnshire County Council continuing their existing sponsorship.
The revised service is expected to start at the end of September.