Bike-riding paramedics start work around Skegness resort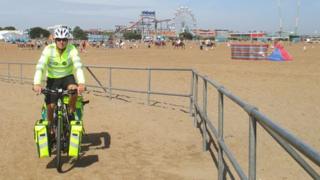 Paramedics on bicycles will respond to 999 calls in the Lincolnshire beach resort of Skegness starting this weekend.
The four paramedics will be the first from East Midlands Ambulance Service outside Leicester to use bicycles.
An ambulance will still be sent to deal with patients with life-threatening injuries, an EMAS spokesman said.
The team of paramedics will operate in a 1.5 mile (2.4km) radius of the Skegness waterfront.
EMAS interim chief executive Jon Sargeant said the bicycles could safely get to shopping and pedestrian areas which ambulances and motorbikes would not be able to reach easily.
"They will carry all the same equipment as they would carry in a car - they will just have less of it because they will be using panniers," he said.
"Paramedics in ambulances will not have to go to minor cases - the bikes will be faster and can deal with patients quickly leaving ambulances to deal with life-threatening calls."
Many patients would be treated at the scene saving them an unnecessary trip to a busy accident and emergency department, he added.