Lincolnshire ambulance station plan set to go ahead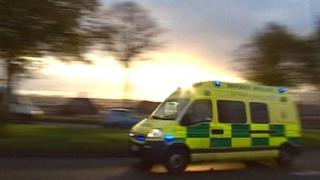 East Midlands Ambulance Service (EMAS) has said plans to reform its Lincolnshire services have been given the go-ahead by an independent panel.
Plans to reorganise the county's services were referred by the secretary of state to an independent review body in June.
The county's Health Scrutiny Committee had raised concerns over plans to cut ambulance stations from 18 to three.
EMAS interim chief executive Jon Sargeant said plans would now continue.
'Disappointed' with decision
"We've heard back from the Independent Reconfiguration Panel (IRP) and they have decided that the process doesn't need to go to fuller review so we are now free to continue with our programme," said Mr Sargeant.
"We're just looking at restarting work in Lincolnshire and we're working very closely with Lincolnshire County Council."
Councillor Christine Talbot, chair of the Health Scrutiny Committee for Lincolnshire, said: "I am disappointed that the issues we raised won't be looked into further but the IRP have at least recognised there are problems with the performance of EMAS.
"I'm very pleased that the IRP believe the scrutiny committee had reason to have concerns over this and that EMAS should provide further clarification on how it expects improvements in performance to actually be achieved.
"We now need to look to future working with EMAS to get the best possible outcomes for Lincolnshire from their ambulance service and we're committed to monitoring the changes and keeping this high on the agenda."
EMAS has been fined £11m over three years for missing response time targets.
In March, its five-year plan to create three "super-hubs", 19 smaller stations and 108 community points was approved by its board.
The service said the new structure would improve response times.
The super-hubs are planned for Lincoln, Boston and Grantham.