Pumps start filling new Lincolnshire reservoir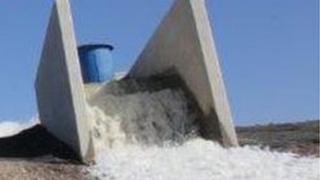 The pumps have been switched on to fill a new £44m Lincolnshire reservoir.
The 300m-litre reservoir, at Newton on Trent, will take water from the River Trent and store it to supply people in Lincoln and the surrounding area.
Anglian Water, which built the reservoir and treatment works, said it would take 30 days to fill.
It said it was necessary to keep pace with the area's expanding population. The reservoir will start operating in summer 2014.
'Major milestone'
Chris Newsome, director of management, said: "We have been planning this for five years.
"It marks a major milestone in our aim to secure water supplies to Lincoln and the surrounding area."
The reservoir was built on farmland, which was purchased by the company.
"No villages were wiped out," added Mr Newsome. "When the reservoir is complete, the farmer is coming back on to the land to graze sheep on the embankment."
Demand for water in Lincoln and Branston is expected to rise from five million litres a day to 20 million in the next two decades.
"The demand is growing," said Mr Newsome. "People are moving into this area. Houses are being built and we have to provide the infrastructure for that."