Red Arrows pilot Sean Cunningham review: 'Separate faults led to death'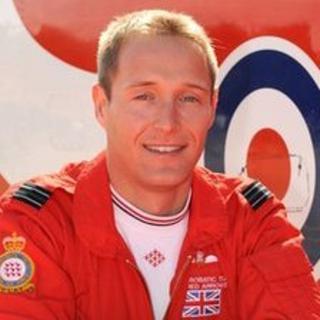 Two separate faults could have led to the death of a Red Arrows pilot who was ejected from his plane, a pre-inquest review in Lincoln has heard.
Flt Lt Sean Cunningham's seat may have ejected due to a design fault with the firing handle, the hearing was told.
His parachute would have saved his life but a second fault meant the main chute did not deploy, the review heard.
The Hawk T1 was on the ground at RAF Scampton, Lincolnshire, when the Coventry pilot died in November 2011.
Tom Kark QC, representing Flt Lt Cunningham's family, said they wanted to know what had been done to address the problem with the seat firing handle in the past.
"Obviously, on behalf of the family, they would like the widest exploration possible of why their son and brother died," said Mr Kark.
He said they also wanted to know what had been done to prevent other pilots being put "in a similar dangerous position".
Ejection footage
The problem with the parachute related to the shackle linking the seat and the drogue parachute - which is smaller than the main parachute and is deployed first.
The drogue parachute deployed but the main one did not.
The pre-inquest hearing was held at Lincoln Cathedral Centre, where the full inquest will also be held.
It will start on 9 January and is expected to take three weeks.
The 40 witnesses will include an expert described as an "ejection seat anorak".
The ejection was caught on video by a visiting Rotary club member, but the "distressing" footage might not be shown.
Lincolnshire Police investigated the death but the Crown Prosecution Service decided that no charges should be brought.
The Health and Safety Executive (HSE) is still investigating and will make recommendations after the full inquest has been completed.