Lincoln Steep Hill bus gets 11th hour rescue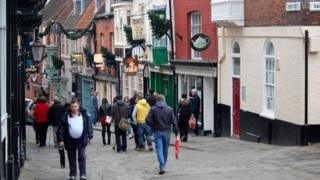 A bus service that helps people navigate Lincoln's steep shopping district may have been saved in an "11th hour rescue".
The city council was proposing to axe the Walk and Ride service, which is used by more than 70,000 passengers a year, because it said it could no longer afford to run it.
Other operators declined to run the service without a subsidy.
But a proposal from a business group may see it operate until 2015.
'Tough decisions'
The service allows shoppers to avoid going up Steep Hill, which has a hand rail to help people climb it.
Steve Bird, the council's assistant director for communities, said the authority was not able to run the service because of central government's "swingeing cuts".
The council put the service out to tender, but operators felt they could not run it without a subsidy.
Mr Bird said the council was faced with losing the service, until Lincoln BIG, the business improvement group, came forward with a proposal to operate a reduced service.
The council will consider the proposal on 27 August. If agreed, the service will continue to operate until 2015.
"It's good somebody has come forward in the 11th hour," added Mr Bird.
"It doesn't necessarily mean the service is saved indefinitely but it does put that evil day off."
"The people who use this service value it. I'm sure they will be delighted to hear it could be retained."
If the council agrees to the proposal, Lincoln BIG and PC Coaches will run the buses every day apart from Sunday.
Matt Corrigan, from Lincoln BIG, said the group hoped to keep the current £1.50 charge at about the same level.
He said about 75% of the cost of running the buses was met through ticket costs and the remaining 25% was coming from a variety of sources, including PC Coaches and Lincolnshire County Council.
"The only things we are seeking from the city council are the existing buses to be able to operate the service," he said.
"We would be look to begin operating the revised service at the end of September."