Lincolnshire driver has 'unbelievable' escape, following garden crash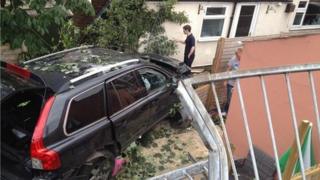 A Lincolnshire driver escaped serious harm when her car crashed through two sets of traffic lights and dropped 9ft (3m) into a back garden, police said.
The driver of the Volvo XC90 on Canwick Road, Lincoln, landed in the garden, on Kingsway, at about 15:45 BST.
Inspector Nigel Key said he had never seen such devastation without serious injury.
"I've never seen anything like it," he said. "I can't believe you can cause so much damage without killing somebody.
'Careered through traffic lights'
"It's unbelievable. The car accelerated down the hill. It careered on through the traffic lights, before taking some railings out and dropping into the garden.
"Thankfully this happened during the school holidays. This could have been a completely different scene.
"There is a school down the road. If it had been four or five weeks ago, when the children were all there, we could have been looking at something very different."
The crash caused delays while the car was recovered.
Police are appealing for witnesses.