Boston bus station 'dirty and smelly' shelters to go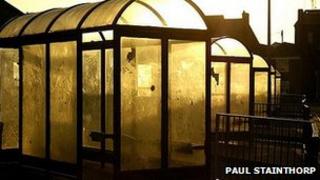 Shelters at a Lincolnshire bus station are set to be removed after becoming the focus of anti-social behaviour.
The five enclosed shelters on St George's Street, Boston, have been described as "dirty, smelly and weather-worn".
Derek Richmond, from Boston Borough Council, also said they "stink of urine" and wants to replace them.
He said they were considering new vandal-resistant designs but wanted suggestions from the public.
Mr Richmond, who is responsible for the town centre, said: "This is the first place a lot of people see of Boston and it is not a good introduction.
"The perspex panels used to be clear but they are now so scratched and burnt cameras can't make out who is inside.
"We want to get rid of them as soon as possible but we are keen to get feedback from users about what they would like to see instead."