Lincoln University Technology College project approved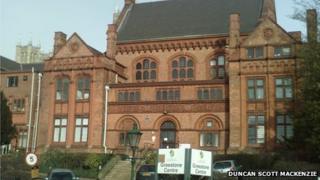 Plans for Lincolnshire's first University Technology College (UTC) have been approved.
The Greestone Building in Lindum Road, Lincoln, is to be modified with a new building added on the back.
People living nearby had urged organisations behind the project to find another location, claiming it would be a "blot on the landscape".
Opponents of the project are taking legal advice following City of Lincoln Council's approval of the project.
Principal Rona McKenzie said: "This is the start of a brand new resource for young people of 14-19 years and an opportunity for us to rejuvenate an historic building."
Tourism fears
The UTC is a joint project between Siemens, the University of Lincoln and Lincoln College and will specialise in engineering and science.
Ralf Wherley-Birch, who lives near the site, said those who objected to the plans were taking legal advice and could seek a judicial review in the High Court.
He said: "There's not much we can do with regard to the planning committee but there are some legal proceedings in the background already taking place."
Residents object to the designs which they say will not fit in with the Grade I or II listed buildings nearby.
Last week, Prof Colin Leeky said he was worried about the impact on tourism.
He said: "This college will entirely change the context and appearance of the historic entrance into the city.
"If visitors come and think Lincoln has got it wrong with this blot on the horizon, it will be bad for the reputation of the city."
Ms McKenzie has said changes have already been made to the design and size of the building after comments from residents.
The college hopes to open in September of next year.