Lincolnshire farmers fear 'worst harvest in 20 years'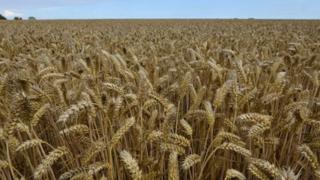 Lincolnshire farmers fear they are facing their worst harvest in 20 years due to an outbreak of the black grass weed.
Farmers said the extent of the weed, which depletes crops by drawing essential nutrients from the soil, was the worst in living memory.
They said bad weather in autumn 2012 and spring 2013 meant they had been unable to kill it before sowing crops.
The National Farmers' Union (NFU) said the problem was getting worse.
'Massive problem'
Andrew Ward, a farmer from Leadenham, near Grantham, said he had lost 120 acres of wheat.
"I spent £200 an acre growing the crop and we are not going to get a penny of return on that because of the black grass," he said.
"Black grass is a massive problem in Lincolnshire and this last year is the worst it has ever been."
He said the weed normally germinated in the soil before the wheat crop was sowed, meaning farmers could kill it.
"But this year, because it was such a wet, cold autumn, the germination of the black grass was quite slow," he added.
"It didn't start appearing until after we'd got the wheat crop growing."
The presence of the weed among the wheat has meant he has had to remove entire sections of his crop.
"The problem is, you can't just selectively spray black grass because you kill the wheat as well," Mr Ward said.
"The black grass problem is so serious it could threaten wheat production in the whole of eastern England.
"Last year we had one of the poorest yields we have had in a long time - probably 20 years.
"This year, because of the black grass, we're going to be well below that."
Simon Fisher, the NFU's county advisor for Nottinghamshire, said: "What black grass does is restrict the yield.
"It's a pretty serious problem and it gets worse and worse each year."