Lincoln's Technology college is a 'blot' on the landscape say residents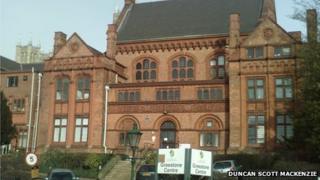 Plans for Lincolnshire's first University Technology College will be a "blot" on the historic landscape, according to residents.
The college is earmarked to be built near the Greestone Building in Lindum Road, Lincoln.
Some people living near the proposed site are urging organisations behind the project to find another location.
However principal Rona McKenzie said the college would rejuvenate the area, chosen for its space and travel access.
The UTC is a joint project between Siemens, the University of Lincoln and Lincoln College and will specialise in engineering and science.
It will see a new building attached to the Greestone Building.
'Blot on horizon'
David Bower, who lives nearby, said: "It is quite an out of scale, modern looking design.
"It is far too high and far too big for the site. It doesn't fit in with the surroundings which are Grade I or II buildings."
Another resident, Prof Colin Leeky, said he was worried about the impact on tourism.
He said: "Lincoln cathedral and the Pottergate are very precious. This college will entirely change the context and appearance of the historic entrance into the city.
"If visitors come and think Lincoln has got it wrong with this blot on the horizon, it will be bad for the reputation of the city."
City of Lincoln councillors will meet next week to discuss the plans.
Ms McKenzie, said changes had already been made to the design and size of the building after comments from residents.
She said: "Throughout the consultation phase we have shown our commitment to the Lincoln people and listening to their concerns.
"We looked at a number of sites across the city and we needed to be confident the location, space and access was the best it could be.
"The city and its heritage is very important to us."
University Technical Colleges are developed in conjunction with employers and universities and designed to provide 14 to 19-year-olds with high-level technical and vocational skills.
If approved, the Lincoln college hopes to open for September 2014.