University of Lincoln's £6.8m campus expansion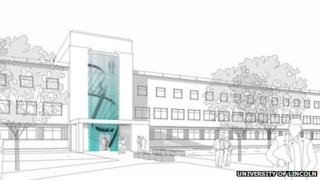 The University of Lincoln is set to expand by creating new schools for mathematics and chemistry at its Brayford Campus.
The project will cost £6.8m and students are expected to start the new courses by 2015.
Prof Mary Stuart, vice chancellor at the university, said the expansion was important for its future.
It follows university plans to build a new science and innovation park on disused land in Lincoln's city centre.
Prof Stuart said: "The new schools will create provision in these critical subject areas in the region and will reshape our whole Brayford Campus as we evolve into the university of the future."
The funding for the schools has come from Higher Education Funding Council (HEFCE).
Yvonne Hawkins, associate director at the HEFCE, said: "Our investment will help develop a long-term solution to create more graduates in maths and chemistry in a part of the country where there is an identified shortage.
"This in turn will help to stimulate the economy and provide jobs for local people."