Margaret Thatcher statue could go near Sir Isaac Newton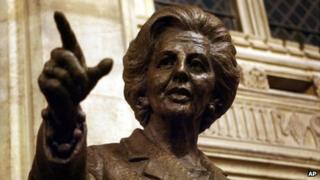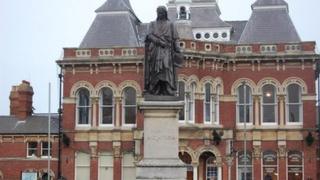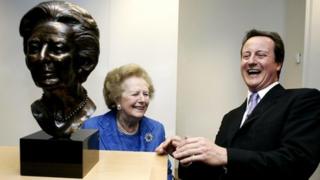 A statue of Margaret Thatcher could be erected near an existing one of Sir Isaac Newton in their hometown of Grantham.
Money is being raised to commission a statue of the former prime minister, and feedback has suggested that people want it in a public place.
No decision has been made and planning permission would be needed.
Another option is to have the statue on display inside Grantham Museum, alongside other Thatcher exhibits.
Helen Goral, chairman of Grantham Museum, said she is "mindful" that the statue could potentially be vandalised if it were inside the museum.
If outside, it is likely that it would be raised on a plinth like the Sir Isaac Newton one, where people could not reach it.
"I think it's fair to say that a statue of Margaret Thatcher would be one of our most controversial exhibits," said Ms Goral.
"However, we have a lot of experience already in dealing with artefacts that are priceless."
Feet touching
In 2002, a theatre producer decapitated a £150,000 Margaret Thatcher statue on show at London's Guildhall.
The Telegraph and The Sun reported earlier this month that a Margaret Thatcher statue in Parliament is to be roped off, along with other statues, to prevent MPs damaging it by touching the feet.
But Ms Goral hoped that people would be able to touch the feet of the Grantham statue, if they wanted to.
"It would obviously be on show but whether it is accessible for people to touch or behind a screen we would have to make that decision when the time comes," she said.
"In an ideal world I would like it to be on show and I would like people to be able to touch it."
People from all over the world visit the museum to see exhibits relating to Baroness Thatcher, including one of her suits.
Visitors have increased by about 300% since she died, and about 3,000 people have signed three books of condolence.
People can give their views on the location of the statue by visiting the project's fundraising website.