Funding row over Skegness attraction bid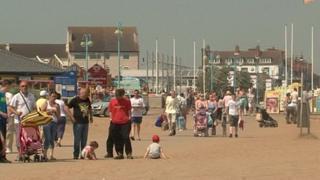 Skegness is not getting "a fair crack of the whip" when it comes to funding to support tourism projects, a town councillor has said.
Councillor Mark Anderson said Lincolnshire County Council needed to invest more along the coast.
His comments came after funding for a £1.2m attraction in Skegness was turned down by the European Regional Development Fund.
The county council said it was down to private business to lead investment.
The bid was for funding to create a covered walkway between Skegness Pier and Bottons Pleasure Beach, with stages at either end.
'Severely deprived'
Mr Anderson, a Labour member of East Lindsey District Council and Skegness Town Council, said although the bid made it to the final stages, the contribution needed from local businesses was too much in the short term.
He believes the county council, which is run by a coalition of Conservatives, Liberal Democrats and Independents, should now step in and help fund the scheme.
Mr Anderson said: "We are not getting our fair share - the county council only invested £300,000 last year.
"To put that in perspective, East Lindsey (the local authority) invested about £500,000.
"We have got some of the most severely deprived wards in the UK along the coast and our young people are crying out for jobs and training."
"We cannot be a twelve-week economy anymore," he said.
Conservative county councillor Colin Davie said Mr Anderson's comments were "hugely unfair".
He said: "We are investing massively in the coastline, which is not just Skegness."
On the subject of the covered walkway, he said: "I don't think it is a dead project - I think it can come back but it is going to need to see a greater level of contribution from the private sector.
"I expect all businesses to start putting some of the profits they make every year back into their businesses so the tourism industry can grow.
"Quite honestly, the county council does not own Skegness and it does not own the foreshore - most of it is owned by the town and district councils and businesses."