Sleaford road approved as district council ends four-year land dispute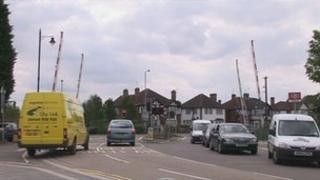 A four-year dispute over the building of a new road through a Lincolnshire town has ended after plans were finally approved.
It was the fifth time the proposals for a £9m link road in Sleaford had gone before North Kesteven District Council.
The road will connect to several new developments in the area but there had been delays after Sleaford Town Council refused to sell its part of the site.
Town council clerk, Shelagh McIntyre said the decision was "disappointing".
'Fundamental to town'
Thursday's meeting was called to re-affirm the district council's stance on building the road after it had originally approved the plans in 2009.
It also agreed to pursue a compulsory purchase of the parkland from Sleaford Town Council, if a deal cannot be reached.
When built, the road will connect the town to the historic Maltings redevelopment site and a new Tesco store.
District council leader, Marion Brighton, said the road would boost the town's economy by £100m and create up to 1,000 jobs.
She added: "Delivery of the link road is fundamental to the future of Sleaford town centre. Without it, the regeneration of the Maltings and development of a new Tesco store cannot take place.
"The road also proactively addresses the town's future growth potential through both approved and anticipated housing schemes and gives a vital confidence boost to businesses and would-be investors."
Residents and the town council had opposed plans over fear of losing rare woodland and damaging existing town centre businesses.
Ms McIntyre, from Sleaford Town Council, said they did not oppose the developments but were unhappy that no alternatives were considered.
She said: "It is very disappointing for the whole of the council and the majority of people of Sleaford.
"We were hoping that an alternative route would have been considered without the route going through the park and destroying many beautiful, old trees, which was one of our main causes for concern."