'Historic' toll bridge between Lincolnshire and Nottinghamshire changes prices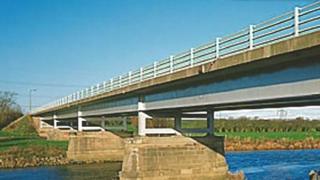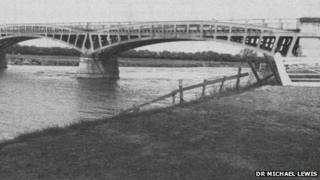 A toll bridge spanning the River Trent and connecting Lincolnshire and Nottinghamshire is raising its prices for car drivers - by 4p.
The company operating Dunham Bridge is raising the charge for cars to 40p, but abolishing separate charges for motorcycles and trailers.
It is also introducing a discount card scheme for cars, allowing drivers to pay £20 for 56 crossings.
The crossing, built in the 1830s, is the last surviving Trent toll bridge.
'Ease of passage'
It links the villages of Newton on Trent, in Lincolnshire, and Dunham-on-Trent, in Nottinghamshire, and carries the A57 over the river.
The Dunham Bridge Company last changed its prices in 2007, although VAT was added in 2012 following the withdrawal of a government reimbursement scheme.
Company secretary Alison Epton said: "We are hoping the card system will save motorists trouble with finding the right change and for ease of passage.
"We have handed out cards to some local regular users for testing and to get their reaction. They have all found them to be easy to use and much easier than finding the right change."
The original cast-iron bridge was built by a group of Lincoln businessmen.
It was rebuilt in steel to trunk road standards in 1976. However, as it still stands on the original piers and abutments, it will eventually need to be reconstructed.
Ken Redmore, an industrial archaeologist, said: "Dunham Bridge is of historic interest because it's one of the only surviving toll bridges in this part of the country.
"A lot of people do seem to find the toll on the bridge annoying, unfortunately.
"But it has its history and there are also a lot of people who wouldn't want to see it change."