Lincolnshire Wildlife Trust bids for marine conservation zones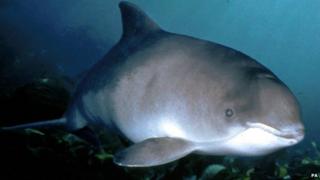 A wildlife trust is seeking to create Marine Conservation Zones (MCZs) after porpoises were spotted off the Lincolnshire coast.
There were eight sightings of the creatures by members of the public on Saturday and Sunday in an event organised by Lincolnshire Wildlife Trust and the Sea Watch Foundation.
Now the trust is calling on people to report any other sightings of the mammals.
The zones were set up by Defra in 2010.
Previously it was thought Lincolnshire's porpoise population was migratory.
Dave Miller, the trust's coastal ranger, said: "We knew they were out there and we would occasionally see one but we thought they were just passing through.
"But through the work we are doing, we are starting to show they are there all the time."
He said he began to think Lincolnshire may have a resident harbour porpoise population after 12 of the animals, which resemble small dolphins, were washed up dead on the coast during the winter.
"As sad as it was, it proved they don't move off in the colder months," Mr Miller said.
The July sightings, which took place at Skegness Pier, Anderby Creek and Chapel Point, were part of a national whale and dolphin watch event, overseen by the Sea Watch Foundation.
The Lincolnshire project had a total of 19 volunteers, who put in 75 hours of sea-watching between them.
From the evidence the trust compiles, they hope to apply for Marine Conservation Zone status to protect the porpoises.
The trust previously missed out on inclusion in the first round of MCZs, which will be announced by Defra in the autumn.
There is currently only one such zone in England - at Lundy Island in the Bristol Channel. The zones were set up to protect specific forms of marine life.